Su empresa en un nivel superior con Odoo
Mínima inversión
Sin costo de licencia. Reduzca la inversión en servidores
Rápida instalación
Evite tiempos extensos para la implementación de un ERP.
Máxima seguridad
Asegure sus comunicaciones. Certificados SSL.
Desarrollo modular
Aplicaciones modulares. Desarrollo a medida.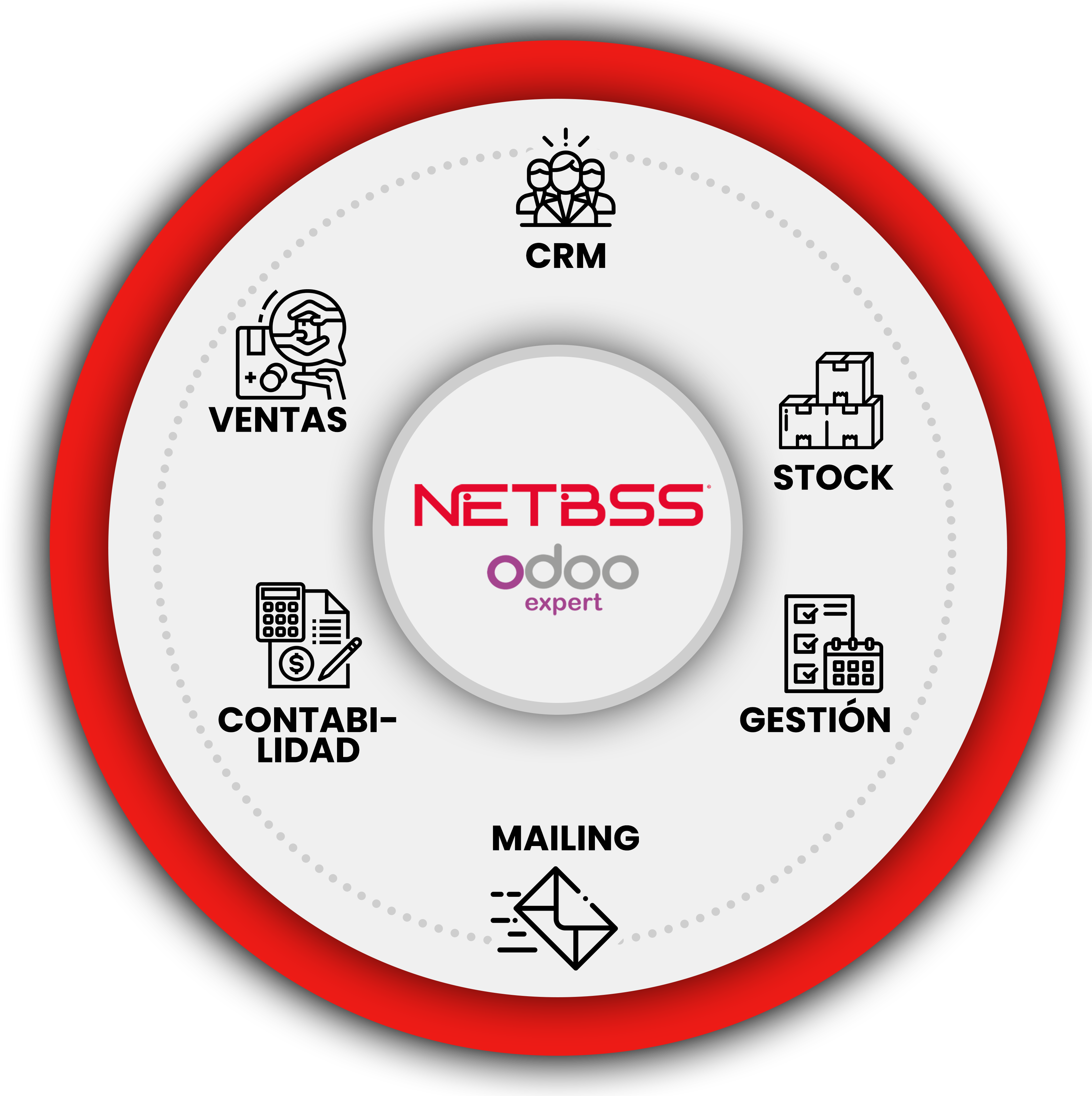 At netBS we have more than ten years of experience in the implementation of Odoo (former OpenERP) one of the most robust and flexible ERP software on the market, essential for your business to be expanded without limit, thanks to its modular system.
We are ready to face the digital transformation of your commitment, as well as addressing the new challenges of Industry 4.0
Our working methodology is based on SCRUM:
We listen to and analyze your needs.

We make a budget.

We create and plan its development (Project/Tasks).

We develop the tasks and test them.

Training and accompaniment Evolution.
If you need to contact Odoo experts to improve your business, call us
Módulos principales de Odoo
Una necesidad, una app
Algunas de las principales características de este potente y versátil solución.
Contabilidad
Gestionar fácilmente la contabilidad de su empresa desde este módulo.
CRM
Realizar el seguimiento de su departamento de ventas, controlar y almacenar todos sus contactos.
Comercio electrónico
El módulo ECOMMERCE es una solución completa para el comercio electrónico, que le permite integre el mismo potente sistema ERP y una tienda virtual personalizada.
Mesa de ayuda
Servicio de asistencia rápido, para resolver cualquier duda que pueda surgirle.
Inventario
Gestión de almacenes intuitiva y fácil, control de inventario, embalaje combinaciones...

Facturación
Facturación basada en cotizaciones, hojas de horas u órdenes de entrega, contabilidad, gastos, declaraciones.
Marketing
Cree campañas de marketing dirigidas y automatizadas. Automatice sus flujos de trabajo y mejorar su negocio.
Fabricación
Gestionar todo el proceso de producción de la empresa de forma completa.
Punto de venta
Totalmente integrado con los módulos de Inventario y Contabilidad.
Proyectos
Módulo desde el que podrá gestionar sus proyectos cómodamente.
Compras
Adquisiciones, pedidos, control de productos y facturas, listas de precios, informes y Panel de control.
Ventas
Gestión de pedidos. Acceder a presupuestos, órdenes de venta y órdenes de entrega.
Partes de horas
Registro de horas dedicado a cada tarea o proceso.
Sitio web
Consulta las estadísticas semanales, mensuales y anuales de tu web. puedes vincular a su cuenta de Analytics.
Nuestros Sectores
Módulos personalizado de Odoo por sectores
Diseño personalizado y adaptado a su modelo de negocio

Sector Joyero
Gestión integral de su empresa de Joyería. Ventas, compras, almacén, fabricación (lista de materiales, piedras preciosas, oro, plata...) cotizaciones de metales, hechuras, venta online.

Clínicas / Centros Médicos
Vertical de gestión integral para tu clínica. Gestión de citas, pacientes, historias clínicas, documentación, facturación...

Emisoras Radio / Televisión
Gestión integral en la nube, CRM, Ventas, Planes, venta online, marketing, facturación, contabilidad, dasgboards personalizados...

Fabricantes
Solución integral para sitios de producción. Una solución completa para su negocio. (Órdenes de fabricación, piezas de trabajo, listas de materiales)
At netBSS we have as its main objective to increase the competitiveness of any company, allowing the management and control of processes, regardless of its size.
By using our tools you get process automation, simplifying management in your company. We specialize in providing tailor-made cloud solutions for SMEs and midsize enterprises. We have extensive experience in the areas of consulting, providing the necessary software tools.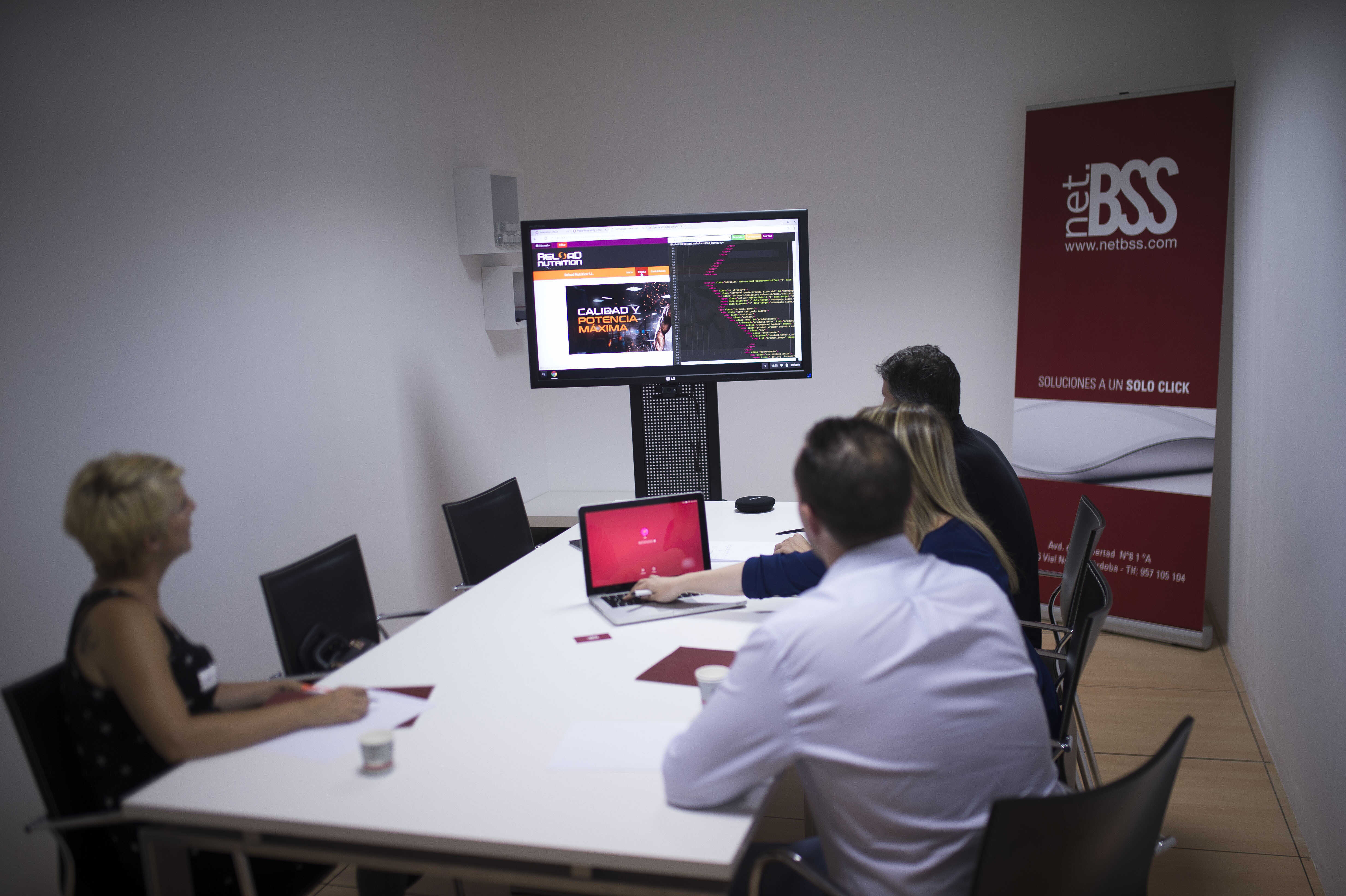 Shall we sit down and tell us?
If you are interested and need a specific development
ask us without obligation!