Your company at a higher level
Minimal investment
No license fee. Reduce server investment.
Quick installation
Avoid long times for implementing an ERP.
Maximum security
Secure your communications. SSL certificates.
Modular development
Modular applications. Tailor-made development.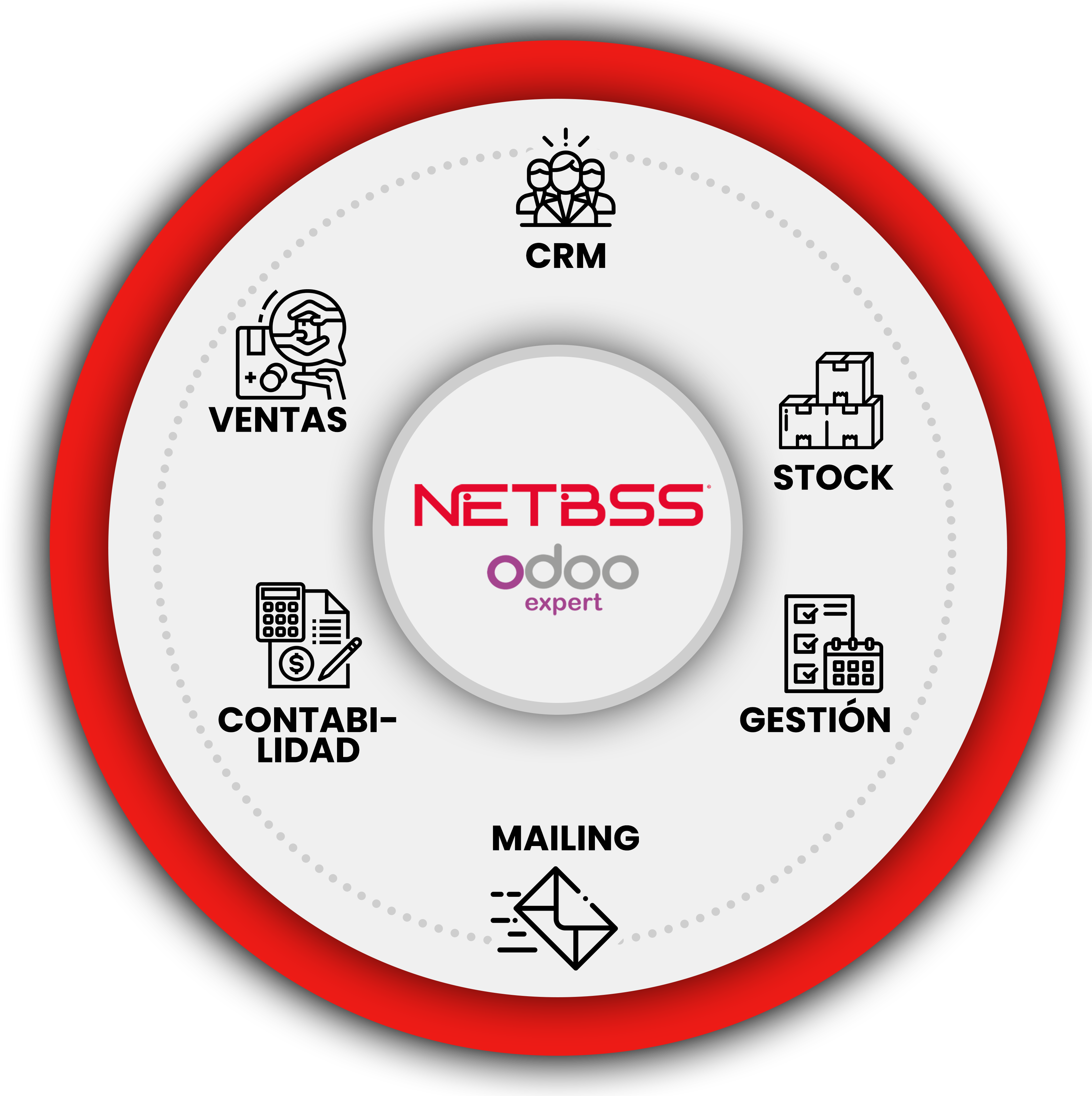 At netBS we have more than ten years of experience in the implementation of Odoo (former OpenERP) one of the most robust and flexible ERP software on the market, essential for your business to be expanded without limit, thanks to its modular system.
We are ready to face the digital transformation of your commitment, as well as addressing the new challenges of Industry 4.0
Our working methodology is based on SCRUM:
We listen to and analyze your needs.

We make a budget.

We create and plan its development (Project/Tasks).

We develop the tasks and test them.

Training and accompaniment Evolution.
If you need to contact Odoo experts to improve your business, call us
Main modules
A necessity, an app
Some of the main features of this powerful and versatile solution.
Accounting
Easily manage your company's accounting from this module.
CRM
Track your sales department, control and store all your contacts.
eCommerce
The ECOMMERCE module is a complete solution for e-commerce, allowing you to integrate the same powerful ERP system and a custom virtual store.
Helpdesk
Quick support service, to resolve any questions that may arise.
Inventory
Intuitive and easy warehouse management, inventory control, packing slips...

Turnover
Quote-based billing, timesheets or delivery orders, accounting, expenses, statements.
Marketing
Create targeted and automated marketing campaigns. Automate your workflows and improve your business.
Manufacturing
Manage the entire production process of the company completely.
Point of sale
Fully integrated with the Inventory and Accounting modules.
Projects
Module from which you can manage your projects comfortably.
Purchases
Acquisitions, orders, product and invoice control, price lists, reports and control panel.
Sales
Orders management. Access budgets, sales orders and delivery orders.
Timesheets
Time record dedicated to each task or process.
Website
Consult weekly, monthly and annual statistics of your website. You can link it to your Analytics account.
Our sectors
A custom design for your business
Personalized design and adapted to your business model

Jewellery Sector
Comprehensive management of your Jewelry company. Sales, purchases, warehouse, manufacturing (bill of materials, gemstones, gold, silver...) metal quotes, hechuras, online sales.

Clinics / Medical Centers
Integral management vertical for your clinic. Management of appointments, patients, clinical histories, documentation, billing...

Radio/Television stations
Comprehensive management in the cloud, CRM, Sales, Plans, online sales, marketing, billing, accounting, custom dashboards...

Manufacturer
Comprehensive solution for production sites. A complete solution for your business. (Manufacturing orders, work parts, BOMs)
At netBSS we have as its main objective to increase the competitiveness of any company, allowing the management and control of processes, regardless of its size.
By using our tools you get process automation, simplifying management in your company. We specialize in providing tailor-made cloud solutions for SMEs and midsize enterprises. We have extensive experience in the areas of consulting, providing the necessary software tools.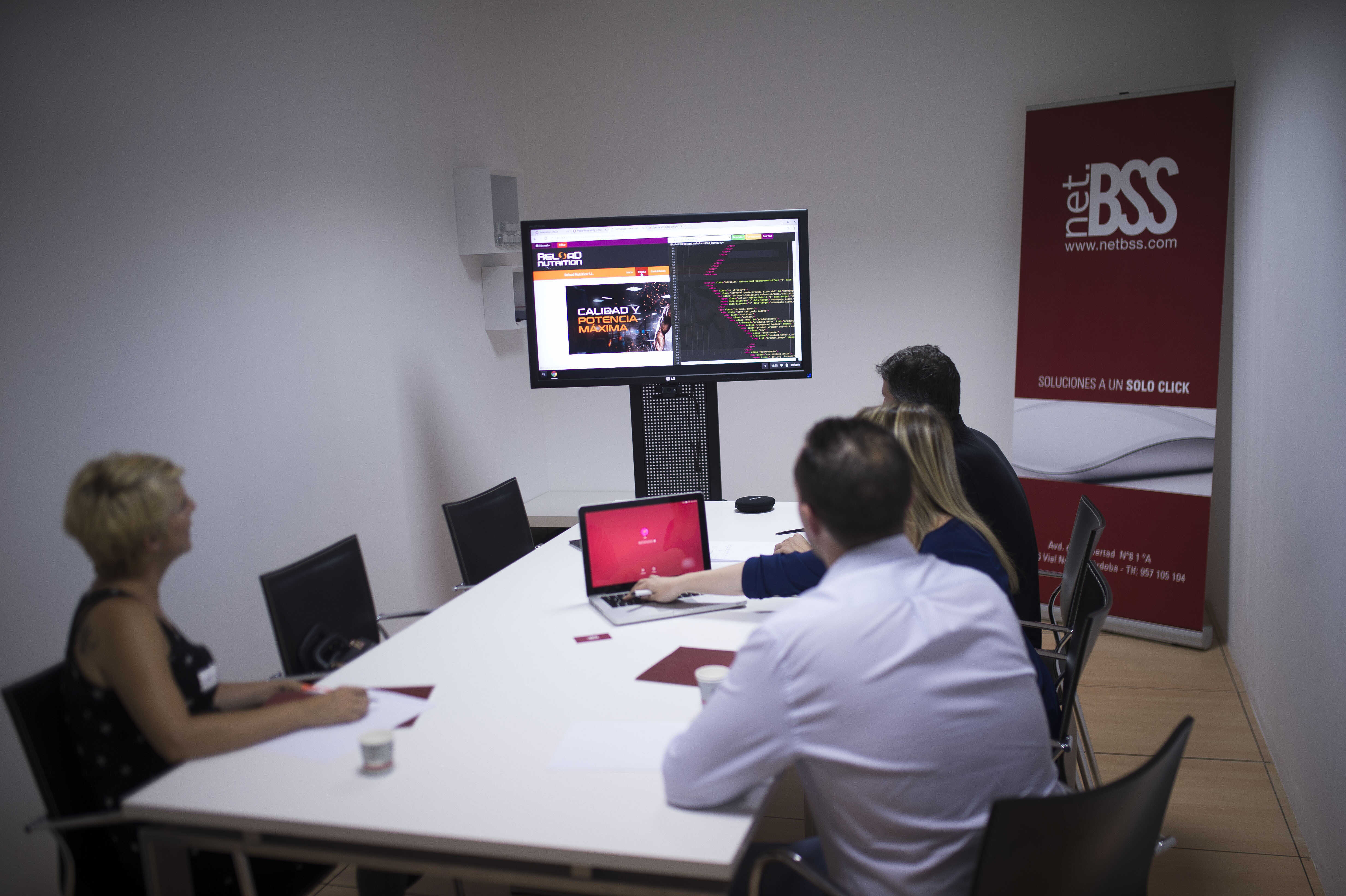 Shall we sit down and tell us?
If you are interested and need a specific development
ask us without obligation!